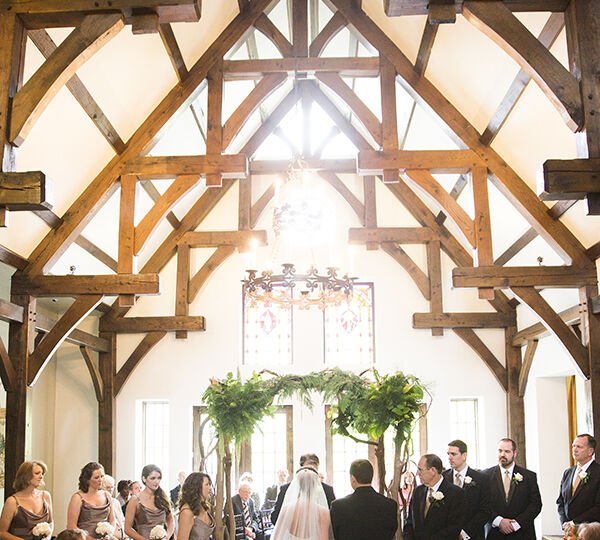 JACKSON COUNTY, N.C., January XX, 2022 /PRNewswire/ — Despite the continued challenges of the COVID-19 pandemic, 2021 saw a return to form for wedding venues across the country. As restrictions eased, countless couples were finally able to enjoy the wedding of their dreams at the venue of their dreams. This was especially true at Jackson County's own Castle Ladyhawke, which received a pair of awards from two of the nation's top wedding planning websites for its excellence.
Earlier this month, Castle Ladyhawke was announced as a winner of the 2022 WeddingWire Couples' Choice Award and The Knot's 2022 Best of Weddings award. The WeddingWire Couples' Choice Awards are given to wedding professionals "who demonstrate excellence in quality, service, responsiveness, and professionalism", as determined by reviews from over one million couples. The Knot's Best of Weddings award is an accolade representing the top 5% of wedding professionals in the country, as reviewed by couples, their families, and their guests. By winning both of these prestigious awards, Castle Ladyhawke has firmly planted itself as a true favorite among couples and weddings guests alike.
About Castle Ladyhawke

Positioned thoughtfully amidst the backdrop of the Blue Ridge Mountains, Castle Ladyhawke is a top-notch destination wedding and event venue located in Western North Carolina. This authentic, period-designed Scottish border castle comes complete with three luxurious suites, a spacious great hall, pub & billiards room, outdoor terrace and lawn spaces, and a three-story spiral staircase that leads to the top of the iconic tower! With a variety of customizable packages, every couple can create their ideal Castle experience. Visit them at castleladyhawke.com, facebook.com/CastleLadyhawke, and @_castleladyhawke to see why this is one of the premier places to say "I do"!
About WeddingWire
WeddingWire is a trusted online marketplace, connecting couples with local wedding professionals and a suite of comprehensive tools that make wedding planning easier. Visit WeddingWire online at WeddingWire.com and follow on social media: Facebook.com/WeddingWire and @WeddingWire on Instagram,  Twitter, and Pinterest.
About The Knot
The Knot is the nation's leading digital wedding resource offering a seamless, all-in-one planning experience—from finding inspiration and local vendors to creating and managing all guest experiences, wedding registries, and more. Visit The Knot online at TheKnot.com and follow on social media: Facebook.com/TheKnot and @TheKnot on Twitter, Pinterest, and Instagram.